In the Lizard Lab, we often spend our summers outside collecting data on the animals we study! This summer, we're working in Puerto Rico to study eight different species of anole lizards there.  We are living at a field station in the rainforest with about 15 other biologists.
7:00 AM – Rise and shine! We eat a hearty breakfast to prepare our bodies to work outside all day long. We put on our outdoor clothes and collect everything we need to do our work.
8:00 AM – Head outside to watch lizards. The lizards we're studying this summer start to become active around 8:00 in the morning, and we want to know what they do all day – for example, how they find food, fight for territories, and move through the forest.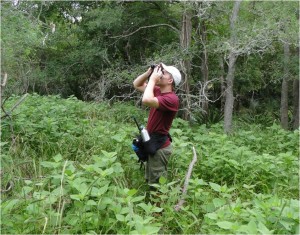 12:00 PM – Eat lunch! We need to take a break in the middle of the day to refuel from a morning full of lizard watching.  We usually each pack a sandwich and some fruit, and sit on the rocks by a stream while we eat.
1:00 PM – Take measurements of lizards outside. Because we are studying the size and shape of the lizards we are watching, it is important to take careful measurements of how heavy they are, how long they are, and how big their dewlaps are.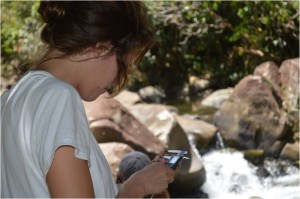 6:00 PM – Quitting time! After a long day in the field, it's nice to take a shower and rest for a little while.
7:00PM – Time to cook dinner!  After we eat, we type the data we have collected during the day into our computer.  This way, we can look at all of our data at once, which helps us see if there patterns in the numbers.
11:00PM – Bed time!  We have to be ready for another busy day tomorrow.
Even though we spend much of the year working indoors, we enjoy getting to work with lizards outside during the summer!